Investment casting is a manufacturing process in which a wax pattern is coated with a refractory ceramic material. Once the ceramic material is hardened its internal geometry takes the shape of the casting. The wax is melted out and molten metal is poured into the cavity where the wax pattern was. The metal solidifies within the ceramic mold and then the metal casting is broken out. This manufacturing technique is also known as the lost wax process. Investment casting was developed over 5500 years ago and can trace its roots back to both ancient Egypt and China. Parts manufactured in industry by this process include dental fixtures, gears, cams, ratchets, jewelry, turbine blades, machinery components and other parts of complex geometry.
The Process
The first step in investment casting is to manufacture the wax pattern for the process. The pattern for this process may also be made from plastic; however it is often made of wax since it will melt out easily and wax can be reused. Since the pattern is destroyed in the process, one will be needed for each casting to be made. When producing parts in any quantity, a mold from which to manufacture patterns will be desired. Similar to the mold that may be employed in the expanded polystyrene casting process to produce foam polystyrene patterns, the mold to create wax patterns may be cast or machined. The size of this master die must be carefully calculated. It must take into consideration shrinkage of wax, shrinkage of the ceramic material invested over the wax pattern and shrinkage of the metal casting. It may take some trial and error to get just the right size, therefore these molds can be expensive.
Sand casting, the most widely used casting process, utilizes expendable sand molds to form complex metal parts that can be made of nearly any alloy. Because the sand mold must be destroyed in order to remove the part, called the casting, sand casting typically has a low production rate. The sand casting process involves the use of a furnace, metal, pattern, and sand mold. The metal is melted in the furnace and then ladled and poured into the cavity of the sand mold, which is formed by the pattern. The sand mold separates along a parting line and the solidified casting can be removed. The steps in this process are described in greater detail in the next section.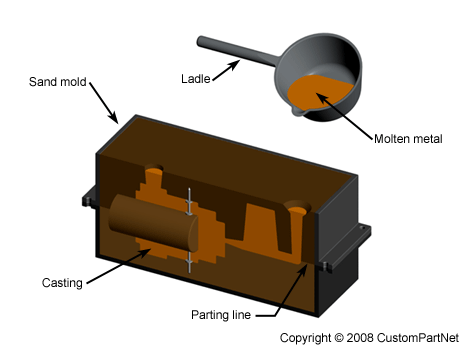 Sand casting overview
Sand casting is used to produce a wide variety of metal components with complex geometries. These parts can vary greatly in size and weight, ranging from a couple ounces to several tons. Some smaller sand cast parts include components as gears, pulleys, crankshafts, connecting rods, and propellers. Larger applications include housings for large equipment and heavy machine bases. Sand casting is also common in producing automobile components, such as engine blocks, engine manifolds, cylinder heads, and transmission cases.
Die casting is a metal casting process that is characterized by forcing molten metal under high pressure into a mold cavity. The mold cavity is created using two hardened tool steel dies which have been machined into shape and work similarly to an injection mold during the process. Most die castings are made from non-ferrous metals, specifically zinc, copper, aluminium, magnesium, lead, pewter and tin-based alloys. Depending on the type of metal being cast, a hot- or cold-chamber machine is used.
The casting equipment and the metal dies represent large capital costs and this tends to limit the process to high-volume production. Manufacture of parts using die casting is relatively simple, involving only four main steps, which keeps the incremental cost per item low. It is especially suited for a large quantity of small- to medium-sized castings, which is why die casting produces more castings than any other casting process. Die castings are characterized by a very good surface finish (by casting standards) and dimensional consistency.
Two variants are pore-free die casting, which is used to eliminate gas porosity defects; and direct injection die casting, which is used with zinc castings to reduce scrap and increase yield.
The main die casting alloys are: zinc, aluminium, magnesium, copper, lead, and tin; although uncommon, ferrous die casting is also possible. Specific die casting alloys include: Zamak; zinc aluminium; aluminium to, e.g. The Aluminum Association (AA) standards: AA 380, AA 384, AA 386, AA 390; and AZ91D magnesium. The following is a summary of the advantages of each alloy:
Zinc: the easiest metal to cast; high ductility; high impact strength; easily plated; economical for small parts; promotes long die life.
Aluminium: lightweight; high dimensional stability for complex shapes and thin walls; good corrosion resistance; good mechanical properties; high thermal and electrical conductivity; retains strength at high temperatures.
Magnesium: the easiest metal to machine; excellent strength-to-weight ratio; lightest alloy commonly die cast.
Copper: high hardness; high corrosion resistance; highest mechanical properties of alloys die cast; excellent wear resistance; excellent dimensional stability; strength approaching that of steel parts.
Silicon tombac: high-strength alloy made of copper, zinc and silicon. Often used as an alternative for investment casted steel parts.
Lead and tin: high density; extremely close dimensional accuracy; used for special forms of corrosion resistance. Such alloys are not used in foodservice applications for public health reasons. Type metal, an alloy of lead, tin and antimony (with sometimes traces of copper) is used for casting hand-set type in letterpress printing and hot foil blocking. Traditionally cast in hand jerk moulds now predominantly die cast after the industrialisation of the type foundries. Around 1900 the slug casting machines came onto the market and added further automation, with sometimes dozens of casting machines at one newspaper office.
Maximum weight limits for aluminium, brass, magnesium and zinc castings are approximately 70 pounds (32 kg), 10 lb (4.5 kg), 44 lb (20 kg), and 75 lb (34 kg), respectively.
The material used defines the minimum section thickness and minimum draft required for a casting as outlined in the table below. The thickest section should be less than 13 mm (0.5 in), but can be greater.
Casting is broadly defined as the process of forming a substance into a specific shape using a mold. Metal casting employs a variety of metals to create the molded end product and dates back thousands of years.
Some of the metal casting processes and materials used in ancient times are still in use today. There are numerous reliable and effective metal casting materials that are used for industrial purposes. The most commonly used resources are:
• Gray iron
• Ductile iron
• Aluminum
• Steel
• Copper
• Zinc
Gray Iron Casting
Gray iron is one of the most frequently used casting materials in industrial manufacturing. Accounting for a large portion of casting supply markets, it is a strong, versatile substance. Gray iron can be machined easily, tested for quality without using destructive methods, formulated to meet specific application requirements, and is cost-effective at high volumes. It is suited to a variety of applications, including those that require:
• Damping or vibration control
• High strength to weight ratios
• Dimensional stability
Ductile Iron Casting
For processes requiring greater strength than that provided by gray iron casting, ductile iron casting may be a useful alternative. Ductile iron shares similar traits with gray iron, and thus has many of the same advantages. However, ductile iron differs from gray iron casting in the following ways:
• Greater strength
• Improved wear resistance
• Stronger toughness
• Superior ductility
• Reduced weight
• Reduced shrinkage
• Lower cost
Austenitic Stainless Steel Investment casting Alloy Compositions
Carbon
Manganese
Silicon
Chromium
Nickel
Molybdenum
Phosphorus
Sulfur
Copper
Iron
Other
Melting Range
Min-Max
Min-Max
Min-Max
Min-Max
Min-Max
Min-Max
Max
Min-Max
Min-Max
Alloy Type
CF-16Fa (303) Investment casting
0.16 Max
1.5 Max
2.0 Max
18.0 -21.0
9.0-12.0
0.40-0.80
0.04
0.20-0.40
Bal.
2550-2650
CF-8 (304) Investment casting
0.08 Max
1.5 Max
2.0 Max
18.0-21.0
8.0-11.0
0.04
0.04 Max
Bal.
2500-2650
CF-3 (304L) Investment casting
0.03 Max
1.5 Max
2.0 Max
17.0-21.0
8.0-12.0
0.04
0.04 Max
Bal.
2550-2650
CF-8M (316) Investment casting
0.08 Max
1.5 Max
2.0 Max
18.0-21.0
9.0-12.0
2.0-3.0
0.04
0.04 Max
Bal.
2500-2550
CF-3M (316L) Investment casting
0.03 Max
1.5 Max
1.5 Max
17.0-21.0
9.0-13.0
2.0-3.0
0.04
0.04 Max
Bal.
2500-2550
316/Non Mag Investment casting
0.08 Max
2.0 Max
1.0 Max
16.0-18.0
11.0-14.0
2.0-3.0
0.04
0.04 Max
Bal.
2450-2500
HT (330) Investment casting
0.35-0.75
2.00 Max
2.50 Max
15.0-19.0
33.0-37.0
0.5
0.04
0.04 Max
Bal.
2400-2500
CF-8C (347) Investment casting
0.08 Max
1.5 Max
2 Max
18.0-21.0
9.0-12.0
0.04
0.04 Max
Bal.
Cb (Nb) = (8xC Min.0% Max
2500-2600
CN-7M (Alloy20) Investment casting
0.07 Max
1.50 Max
1.50 Max
19.0-22.0
27.5-30.5
2.00-3.00
0.04
0.04 Max
1.5-2.0
Bal.
2500-2550
CF10SMnN Investment casting
0.10 Max
7.00-9.00
3.50-4.50
16.0-18.0
8.0-9.0
–
0.06
0.04 Max
Bal.
Nitrogen 0.08-0.18
2450-2550
Austenitic Stainless Steel Investment casting Alloy Properties
Cross-Index of Various Alloy Designations for Austenitic Stainless Steel Investment casting Alloys
Austenitic Stainless Steel Investment casting Alloy Properties
Condition
Tensile Strength
0.2% Yield Strength
% Elongation Range (2.5 cm or 1")
Hardness RB Max
Austenitic Stainless Steel Alloy Cross-Index
Alloy Type
English PSI
Metric MPa
English PSI
Metric MPa
Alloy or Type
AMS
Other Designation
CF-16Fa (303) Investment casting
Solution Annealed
70-85,000
483-586
30-40,000
207-276
25-40
90
303 Investment casting
5341
ASTM A743 CF-16F
CF-8 (303) Investment casting
Solution Annealed
70-85,000
483-586
30-50,000
207-345
30-50
90
304 (CF-8) Investment casting
5370
ASTM A743 CF-8
CF-3 (304L) Investment casting
Solution Annealed
70-85,000
483-586
30-50,000
207-345
30-50
90
304L (CF-3) Investment casting
5371
ASTM A743 CF-3
CF-8M (316) Investment casting
Solution Annealed
70-85,000
483-586
30-50,000
207-345
30-50
90
316 (CF-8M) Investment casting
5360
ASTM A743 CF-8M
CF-3M (316L) Investment casting
Solution Annealed
70-85,000
483-586
30-50,000
207-345
30-50
90
316L (CF-3M) Investment casting
ASTM A743 CF-3M
316 Non-Magnetic Investment casting
Solution Annealed
70-85,000
483-586
30-50,000
207-345
30-50
90
316 Non-Magnetic Investment casting
HT (330) Investment casting
As casting
65-75,000
448-517
–
–
30-50
90
330 HT Investment casting
ASTM A297 HT
CF-8C (347) Investment casting
Solution Annealed
70-85,000
483-586
30-40,000
207-276
30-40
90
347 (CF-8C) Investment casting
ASTM A743 CF-8C
CN-7M (Alloy 20) Investment casting
Solution Annealed
62-80,000
427-552
25-35,000
172-241
25-40
90
Alloy 20 (CN-7M) Investment casting
ASTM A743 CN-7M
CF10SMnN Investment casting
Solution Annealed
85-100,000
586-689
42-55,000
290-379
30-50
100
CF-10SMnN Investment casting
* Nitronic 60® ASTM A743 CF-10SMnN
Plain Carbon and Low Alloy Steel Investment casting Compositions
Carbon
Manganese
Silicon
Chromium
Nickel
Molybdenum
Phosphorus
Sulfur
Iron
Other
Melting
Min-Max
Min-Max
Min-Max
Min-Max
Min-Max
Min-Max
Max
Max
Range
Alloy Type
1020 Investment casting
0.15-0.25
0.20-0.60
0.20-0.60
0.25 Max
0.25 Max
0.25 Max
0.04
0.045
Bal.
Cu 0.25 Max
2770-2810
1045 Investment casting
0.40-0.50
0.50-0.90
0.20-0.50
0.05
0.06
Bal.
2700-2740
1050 Investment casting
0.45-0.55
0.70-1.00
0.20-1.00
0.25 Max
0.25 Max
0.25 Max
0.04
0.04
Bal.
Cu 0.25 Max
2700-2740
1095 Investment casting
0.90-1.03
0.30-0.50
0.20-1.00
0.25 Max
0.25 Max
0.10 Max
0.04
0.05
Bal.
Cu 0.25 Max
2700-2740
4130 Investment casting
0.25-0.35
0.40-0.70
0.20-0.80
0.80-1.10
0.25 Max
0.15-0.25
0.04
0.04
Bal.
Cu 0.25 Max
2775-2815
4140 Investment casting
0.35-0.45
0.75-1.0
0.20-0.80
0.80-1.10
0.25 Max
0.15-0.25
0.04
0.04
Bal.
Cu .25 Max
2765-2805
4150 Investment casting
0.45-0.55
0.75-1.0
0.20-0.80
0.80-1.10
0.25 Max
0.15-0.25
0.04
0.04
Bal.
2750-2790
4340 Investment casting
0.36-0.44
0.60-0.90
0.20-0.80
0.70-0.90
1.65-2.00
0.20-0.30
0.04
0.04
Bal.
Cu .35 Max
2720-2760
6150 Investment casting
0.45-0.55
0.65-0.95
0.20-0.80
0.80-1.10
0.04
0.04
Bal.
V .15 Min
2700-2740
8620 Investment casting
0.15-0.25
0.65-0.95
0.28-0.80
0.40-0.70
0.40-0.70
0.15-0.25
0.04
0.04
Bal.
Cu .25 Max
2700-2740
8640 Investment casting
0.35-0.45
0.70-1.05
0.20-0.80
0.40-0.60
0.40-0.70
0.15-0.25
0.04
0.04
Bal.
2720-2740
8650 Investment casting
0.45-0.55
0.70-1.05
0.20-0.80
0.40-0.60
0.40-0.70
0.15-0.25
0.04
0.04
Bal.
2730-2740
Plain Carbon and Low Alloy Steel Investment casting Properties
Low Alloy Steel Investment casting Alloys
——
Condition
Tensile Strength
0.2% Yield Strength
% Elongation Range (2.5 cm or 1")
Hardness Range or Max
Alloy or Type
AMS
Other Designation
Alloy Type
——
English PSI
Metric MPa
English PSI
Metric MPa
——
——
1020 Investment casting
——
SAE J403ASTM A732 1A
MIL-S-22141B IC1020
1020 Investment casting
Annealed
60-70,000
414-483
40-45,000
276-310
25-40
80 Rb
1045 Investment casting
——
——
——
1045 Investment casting
Annealed Hardened
80-90,000 100-180,000
552-621 690-1241
50-60,000 90-180,000
345-414 621-1241
20-25 0-10
100 Rb 25-57 Rc
1050 Investment casting
——
ASTM A732 4A, 4Q
MIL-S-22141B IC1050
1050 Investment casting
Annealed Hardened
90-110,000 125-180,000
621-758 862-1241
50-65,000 100-180,000
345-448 690-1241
10-25 0-10
100 Rb 20-45 Rc
1095 Investment casting
——
——
——
1095 Investment casting
Annealed Hardened
– –
– –
– –
– –
– –
100 Rb 40-60 Rc
4130 Investment casting
5336
ASTM A732 7Q
MIL-S-22141B IC4130
4130 Investment casting
Annealed Hardened
– 130-170,000
-2068
– 100-130,000
-1586
-25
100 Rb 23-49 Rc
4140 Investment casting
5338
ASTM A732 8Q
MIL-S-22141B IC4140
4140 Investment casting
Annealed Hardened
– 130-200,000
-2270
– 100-155,000
-1759
-25
100 Rb 29-57 Rc
——
——
——
——
4150 Investment casting
Annealed Hardened
– 140-200,000
-2359
– 120-180,000
-2068
-15
100 Rb 25-58 Rc
——
——
——
——
4340 Investment casting
Annealed Hardened
– 130-200,000
-2270
– 100-180,000
-1931
-25
20 Rc 20-55 Rc
——
——
——
——
6150 Investment casting
Annealed Hardened
– 140-200,000
-2359
– 120-180,000
-2068
-15
100 Rb 30-60 Rc
——
——
——
——
8620 Investment casting
Annealed Hardened
– 100-130,000
-1586
– 80-110,000
-1310
-30
100 Rb 20-45 Rc
——
——
——
——
8640 Investment casting
Annealed Hardened
– 130-120,000
-2270
– 100-180,000
-1931
-25
20 Rc 30-60 Rc
——
——
——
——
8650 Investment casting
Annealed Hardened
– 140-200,000
-2359
– 120-180,000
-2068
-14
25 Rc 30-58 Rc
——
——
——
——
Martensitic Stainless Steel Alloy Investment casting Compositions
Carbon
Manganese
Silicon
Chromium
Nickel
Molybdenum
Phosphorous
Sulfur
Copper
Iron
Other
Melting
Min-Max
Max
Min-Max
Min-Max
Min-Max
Min-Max
Max
Min-Max
Min-Max
Range
Alloy Type
410 (CA-15) Investment casting
0.05-0.15
1
1.5 Max
11.5-14.0
1.0  Max
0.5 Max
0.04
0.04 Max
0.50 Max
Bal.
2700-2790
416 Investment casting
0.15 Max
1.25
1.50 Max
11.5-14.0
0.50 Max
0.50 Max
0.05
0.15-0.35
0.50 Max
Bal.
Zr 0.50 Max
2700-2790
420 Investment Grade
0.15 Max
1
1.0 Max
12.0-14.0
0.04
0.03 Max
Bal.
2650-2750
15-5 PH Investment casting
0.05 Max
0.6
0.50-1.00
14.00-15.50
4.20-5.00
0.025
0.025 Max
2.5-3.2
Bal.
Cb+Ta 0.15-0.30 N 0.05 Max
2560-2625
17-4 PH Investment casting
0.06 Max
0.7
0.50-1.00
15.5-16.7
3.60-4.60
0.04
0.03 Max
2.8-3.5
Bal.
Cb+Ta 0.15-0.30 N 0.05 Max
2560-2625
440A Investment casting
0.60-0.75
1
1.0 Max
16.0-18.0
0.75 Max
0.35-0.75
0.04
0.03 Max
Bal.
2500-2750
440C Investment casting
0.95-1.20
1
1.0 Max
16.0-18.0
0.75 Max
0.35-0.75
0.04
0.03 Max
Bal.
2500-2700
CA-6NM Investment casting
0.06 Max
1
1.00 Max
11.5-14.0
3.5-4.5
0.40-1.00
0.04
0.03
Bal.
2500-2550
Martensitic Stainless Steel Alloy Properties
Cross-Index of Alloy Designations of Martensitic Stainless Steel Alloy Investment casting Alloys
Martensitic Stainless Steel Alloy Properties
Martensitic Stainless Steel Alloy Cross-Index
Condition
Tensile Strength
0.2% Yield Strength
% Elongation Range (2.5 cm or 1")
Hardness Range or Max
Alloy or Type
AMS
Other Designation
Alloy Type
English PSI
Metric MPa
English PSI
Metric MPa
410 (CA-15) Investment casting
5350, 5351
ASTM A743 CA-15
410 (CA-15) Investment casting
Annealed Hardened
– 90-200,000
-2015
– 65-160,000
-1551
-25
100 Rb Max 94Rb-45Rc
416 Investment casting
5349 Type 1
IC 416
416 Investment casting
Annealed Hardened
–
–
–
–
–
100Rb 94Rb-45Rc
420 (CA-40) Investment casting
ASTM A743 CA-40
420 Investment casting
Annealed Hardened
– 90-220,000
-2186
– 65-160,000
-1551
-21
25 Rc Max 25-45 Rc
15-5 PH Investment casting
5346, 5347, 5356, 5357, 5400
ASTM A747 CB7-Cu2
15-5 PH Investment casting
Hardened
125-170,000
862-1172
– 97-145,000
669-1000
5月15日
26-38 Rc
17-4 PH Investment casting
5342, 5343, 5355
ASTM A747 CB7-Cu1
17-4 PH Investment casting
Annealed Hardened
– 125-190,000
-2172
– 97-160,000
-1772
-20
36 Rc Max 30-44 Rc
440A Investment casting
IC 440A
440A Investment casting
Annealed Hardened
–
–
–
–
–
30 Rc Max 35-56Rc
440C Investment casting
5352
IC 440C
440C Investment casting
Annealed Hardened
–
–
–
–
–
35 Rc Max 40-60 Rc
CA-6MN Investment casting
ASTM A743 CA-6NM
CA-6NM Investment casting
Annealed Hardened
– 120-140,000
-1792
– 100-130,000
-1585
-40
28 Rc Max 28-36 Rc
Ferritic Stainless Steel Investment casting Alloy Chemical Compositions
Carbon
Manganese
Silicon
Chromium
Nickel
Molybdenum
Phosphorous Max
Sulfur
Copper
Iron
Other
Melting
Max
Max
Max
Min-Max
Max
Max
Max
Max
Range
Alloy Type
409/Nb Investment casting
0.16
1.5
2
10.5-11.75
0.5
0.045
0.045
Bal.
Cb (Nb) 8*C Min 1.00 Max
2550-2650
442 (CB-30) Investment casting
0.3
1
1.5
18.0-22.0
2
0.04
0.04
Bal.
2650-2750
446 (CC-50) Investment casting
0.5
1
1.5
26.0-30.0
4
0.04
0.04
Bal.
2650-2750
Ferritic Stainless Steel Investment casting Alloy Properties
Cross-Index of Various Alloy Designations of Ferritic Stainless Steel Investment casting Alloys
Ferritic Stainless Steel Alloy Properties
Ferritic Stainless Steel Alloy Cross-Index
Condition
Tensile Strength
0.2% Yield Strength
% Elongation Range (2.5 cm or 1")
Hardness Max
Alloy or Type
AMS
Other Designation
Alloy Type
English PSI
Metric MPa
English PSI
Metric MPa
409/Nb Investment casting
409/Nb Investment casting
Annealed
–
–
–
–
–
100 Rb
442 (CB-30) Investment casting
ASTM A743 CB-30
442 (CB-30) Investment casting
Annealed
65-100,000
448-689
30-70.000
207-483
15-25
241 BHN Max
446 (CC-50) Investment casting
ASTM A743 CC-50
446 (CC-50) Investment casting
Annealed
55-95,000
379-655
–
–
–
241 BHN Max
Super Duplex Stainless Steel Investment Cast Alloy Chemical Compositions
Carbon
Manganese
Silicon
Chromium
Nickel
Molybdenum
Phosphorous Max
Sulfur
Copper
Iron
Other
Melting Range
Max
Max
Max
Min-Max
Min-Max
Min-Max
Max
Min-Max
Alloy Type
ASTM A890 Grade 1A (CD4MCu)
0.04
1
1
24.5-26.5
4.75-6.00
1.75-2.25
0.04
0.04
2.75-3.25
Bal.
——
2630-2680
ASTM A890 Grade1B (CD4MCuN)
0.03
1
1
24.5-26.5
4.7- 6.0
1.7-2.3
0.04
0.04
2.7-3.3
Bal.
N 0.10-0.25
2630-2680
ASTM A890 Grade 1C (CD3MCuN)
0.03
1.2
1.1
24-26.7
5.6-6.7
2.9-3.8
0.03
0.03
1.4-1.9
Bal.
N 0.10-0.30
2630-2680
ASTM A890 Grade 2A (CE8MN)
0.08
1
1.5
22.5-25.5
5.6-6.7
3-4.5
0.03
0.03
1.4-1.9
Bal.
N 0.22-0.33
2630-2680
ASTM A890 Grade3A (CD6MN)
0.06
1
1
24-27
4–6
1.75-2.5
0.04
0.04
——
Bal.
N 0.15-0.25
2630-2680
ASTM A890 Grade 4A (CD3MN)
0.03
1.5
1
21.0-23.0
4.5- 6.5
2.5-3.5
0.04
0.02
1.00 Max
Bal.
N 0.10-0.30
2630-2680
ASTM A890 Grade 5A (CE3MN)
0.03
1.5
1
24–26
6–8
4–5
0.04
0.04
——
Bal.
N 0.10-0.30
2630-2680
ASTM A890 Grade 6A (CD3MWCnN)
0.03
1
1
24–26
6.5–8.5
3–4
0.03
0.025
0.5–1
Bal.
N 0.20-0.30
2630-2680
Duplex Stainless Steel Investment Cast Alloy Properties
 Duplex Stainless Steel Investment Cast Alloys
Duplex Stainless Steel Alloy Properties
Duplex Stainless Steel Alloy Cross-Index
Condition
Tensile Strength
0.2% Yield Strength
% Elongation Range (2.5 cm or 1″)
Hardness RB Max
Alloy or Type
AMS
Other Designation
Alloy Type
English PSI
Metric MPa
English PSI
Metric MPa
CD4MCu
ASTM A890 Grade 1A
ASTM A890 Grade 1A CD4MCu
Solution Annealed
100Min
690 Min
70, Min
485 Min
16% Min
94Rb – 27Rc
CD3MN
ASTM A890 Grade 4A
ASTM A890 Grade1B (CD4MCuN)
Solution Annealed
100Min
690 Min
70, Min
485 Min
16% Min
94Rb – 27Rc
ASTM A890 Grade 1C (CD3MCuN)
Solution Annealed
100Min
690 Min
70, Min
485 Min
16% Min
94Rb – 27Rc
ASTM A890 Grade 2A (CE8MN)
Solution Annealed
95Min
655 Min
65, Min
450 Min
25% Min
94Rb – 27Rc
ASTM A890 Grade3A (CD6MN)
Solution Annealed
95Min
655 Min
65, Min
450 Min
25% Min
94Rb – 27Rc
ASTM A890 Grade 4A CD3MN
Solution Annealed
90, Min
620 Min
60, Min
415 Min
25% Min
90 Rb – 25Rc
ASTM A890 Grade 5A (CE3MN)
Solution Annealed
100, Min
690 Min
75 Min
515 Min
18% Min
90 Rb – 25Rc
ASTM A890 Grade 6A (CD3MWCnN)
Solution Annealed
90,000 Min
690 Min
65, Min
450 Min
25% Min
90 Rb – 25Rc
Copper Based Investment casting Alloy Compositions
AluMinm
Zinc
Tin
Lead
Nickel
Iron
Silicon
Manganese
Phosphorous
Sulfur
Copper
Other
Melting
Min-Max
Min-Max
Min-Max
Min-Max
Min-Max
Min-Max
Min-Max
Max
Max
Temperature F
Alloy Type
CDA 872 Investment casting
1.5 Max
5
1
0.5
–
2.5 Max
1.0- 5.0
1.5
–
–
89.0 Min
–
1580-1780
CDA 875 Investment casting
0.50 Max
12.0- 16.0
–
0.5
–
–
3.0- 5.0
–
–
–
79.0 Min
–
1510-1680
CDA 876 Investment casting
–
4.0-7.0
–
0.5
–
–
3.5- 5.5
–
–
–
88.0 Min
–
11580-1780
CDA 903 Investment casting
0.005 Max
3.0-5.0
7.5-9.0
0.25
1
0.20 Max
0.005 Max
–
0.05 Max
0.05 Max
86.0-89.0
Sb 0.20 Max
1570-1832
CDA 905 Investment casting
0.005 Max
1.0-3.0
9.0-11.0
0.3
–
–
0.005 Max
–
0.05 Max
0.05 Max
86.0-89.0
Sb 0.20 Max
1570-1830
CDA 954 Al. Bronze C Investment casting
10.0- 11.5
–
–
–
2.5
3.0- 5.0
–
0.5
–
–
83.5 Min
–
1880-1900
Copper Based Investment casting Alloy Properties
 Copper Based Investment casting Alloys
Copper Based Alloy Properties
Copper Based Alloy Cross-Index
Condition
Tensile Strength
0.2% Yield Strength
% Elongation Range (2.5 cm or 1")
Typical Hardness
Alloy or Type
AMS
Other Designation
Alloy Type
English
Metric
English
Metric
CDA 872 Investment casting
ASTM B584
PSI
MPa
PSI
MPa
CDA 875 Investment casting
ASTM B584
CDA 872 Investment casting
As casting
45,000 Min
18,000 Min
20 Min
80 500Kg BHN
CDA 876 Investment casting
ASTM B584
CDA 875 Investment casting
As casting
50,000 Min
31,000 Min
18 Min
100 500Kg BHN
CDA 903 Investment casting
ASTM B584
CDA 876 Investment casting
As casting
60,000 Min
30,000 Min
16 Min
110 500Kg BHN
CDA 905 Investment casting
ASTM B584
CDA 903 Investment casting
As casting
40,000 Min
18,000 Min
20 Min
60-75 500Kg BHN
CDA 954 AluMinm Bronze C Investment casting
ASTM B148
CDA 905 Investment casting
As casting
40,000 Min
18,000 Min
20 Min
75-85 500Kg BHN
CDA 954 AluMinm Bronze C Investment casting
As casting Heat Treated
75-85,000 90-105,000
517-586 621-724
30-40,000 45-55,000
207-276 310-379
10-20 6-10
150-180 3000Kg BHN 190-235 3000Kg BHN
Nickel Based Investment casting Alloy Specifications
C
Mn
Si
Cr
Ni
Mo
P
S
Cu
Fe
Co
V
W
Other
Melting
Max
Max
Min-Max
Min-Max
Min-Max
Min-Max
Max
Max
Min-Max
Min-Max
Range
Alloy Type
NI-B N7M Investment casting
0.07
1
1
1.0 Max
Bal.
30.0-33.0
0.04
0.03
3.00 Max
2375-2495
NI-C CW-12MW Investment casting
0.12
1
1
15.5-17.5
Bal.
16.0-18.0
0.04
0.03
4.5-7.5
0.20-0.40
3.75-5.25
2310-2450
NI-X AMS5390D Investment casting
0.1
1
1
20.50-23.00
Bal.
8.00-10.00
0.04
0.03
17.00-20.00
0.50-2.50
0.20-1.00
Se 0.0050 Max B 0.010 Max
2300-2470
NI-625 CW-6MC Investment casting
0.06
1
1
20.0-30.0
Bal.
8.00-10.00
0.015
0.015
5.00 Max
Cb(Nb) 3.15-4.50
2325-2375
Monel E M30C Investment casting
0.3
1.5
1.0-2.0
Bal..
0.03
0.03
26.0-33.0
3.5
Cb(Nb) 1.0-3.0
2300-2350
Nickel Based Alloy Properties
Nickel Based Investment casting Alloys
Nickel Based Alloy Properties
Nickel Based Alloy Cross-Index
Condition
Tensile Strength
0.2% Yield Strength
% Elongation Range (2.5 cm or 1")
Hardness Range or Max
Alloy or Type
AMS
Other Designation
Alloy Type
English psi
Metric MPa
English psi
Metric MPa
NI-B Investment casting
ASTM A494 N7M
NI-B (N7M) Investment casting
Solution Annealed
76,000- 95,000
525-655
40,000- 60,000
276-414
20-30
90 Rb Max
NI-C Investment casting
ASTM A494 CW-12MW
NI-C (CW-12MW) Investment casting
Solution Annealed
72,000- 90,000
496-621
40,000- 60,000
276-414
4.0 Min
90 Rb max
NI-X Investment casting
5390D
NI-X (AMS5390D) Investment casting
As casting RT
63-70,000
434-483
41-45,000
283-310
10月15日
96 Rb max
NI-625 Investment casting
ASTM A494 CW-6MC
NI-625 (CW-6MC) Investment casting
Solution Annealed
70,000-90,000
483-621
40,000- 60,000
276-414
25-35
90 Rb Max
Monel E Investment casting
ASTM A494 M30C
Monel E (M30C) Investment casting
As casting
65-80,000
448-552
33-40,000
227-276
25-35
65-80 Rb
Tool Steel Investment casting Alloy Chemical Compositions
Carbon
Manganese
Phosphorous
Sulfur
Silicon
Nickel
Chromium
Molybdenum
Tungsten
Vanadium
Other
Melting
Min-Max
Min-Max
Max
Max
Min-Max
Min-Max
Min-Max
Min-Max
Min-Max
Min-Max
Temperature
Alloy Type
A-2 Investment casting
0.95-1.05
0.75
–
–
1.5
–
4.75-5.50
0.90-1.40
–
0.20-0.50 Optional
–
2500- 2600
A-6 Investment casting
0.65-0.75
1.80-2.20
–
–
1
–
0.80-1.20
0.80-1.30
–
–
–
2500-2600
D-2 Investment casting
1.40-1.60
1
–
–
1.5
–
11.0-13.00
0.70-1.20
–
0.40-1.00 Optional
2500-2600
L-6 Investment casting
0.65-0.75
0.75
–
–
1
1.50-1.90
0.80-1.00
–
–
–
2500-2600
M2 Investment casting
0.78-0.88
0.75
–
–
1
0.25
3.75-4.50
4.50-5.50
5.50-6.75
1.25-2.20
2500-2600
O-1 Investment casting
0.85-1.00
1.00-1.30
–
–
1.5
–
0.40-1.00
–
.40-.60
0.3
2500-2600
S5 Investment casting
0.50-0.65
0.60-1.00
–
–
1.75-2.25
–
0.35
0.20-0.80
–
0.35
2450-2550
S-7 Investment casting
0.50-0.60
0.50-0.80
–
–
1
–
3.00-3.50
1.20-1.60
–
–
2450-2550
Tool Steel Investment casting Alloy Hardness Values
Tool Steel Alloy Hardness
Annealed with Slow Cool Max
Cycle Anneal Max
Hardened Range Rc
Annealed with Slow Cool Max
Cycle Anneal Max
Hardened Range Rc
Alloy Type
Alloy Type
A-2 Investment casting
20 Rc
27 Rc
47-60
M2 Investment casting
30 Rc
61-63
A-6 Investment casting
100 Rb
48-59
O-1 Investment casting
100 Rb
45-61
D-2 Investment casting
35 Rc
50-59
S5 Investment casting
100 Rb
37-59
L-6 Investment casting
95 Rb
39-60
S7 Investment casting
100 Rb
35-57